Our Parish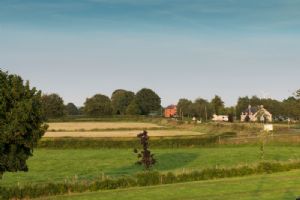 Our parish community of about 500 families lies within the most northerly part of the Archdiocese of Armagh in rolling farmland, in south County Derry on the north-west shores of Lough Neagh. Until 1993, it was part of Magherafelt parish, but in that year, Newbridge and Ballymaguigan became a parish in its own right. Our church, St Trea's, is on the north side of the Aughrim Road between the Bellshill Road and the Derrygarve Road.
The earliest written record of a church on the current site dates from the Ordnance Survey (OS) of 1830. The current church building is the result of a refurbishment in the 1890s. It remains the heart of our parish to the current day.
The church takes its name from the fifth century saint, Trea, who is the patron saint of the parish. She is said to have been a sister of Saint Lurach of Maghera and her feast day is celebrated on 3rd August.
Copyright 2023 St Trea's Parish